Book Project
Diverse Parents, Desirable Schools: Cultural Fit and Conflict in the Era of School Choice
During an early November snowstorm in 2014, fifty parents camped for a week to secure spots for their children at Dater public Montessori school in Cincinnati, Ohio.
Meanwhile, in North Charleston, South Carolina, black parents and grandparents attended a Charleston Board of Education protested against Montessori, specifically the planned district conversion of their local elementary school, Malcolm Hursey, into a school-wide Montessori program.
Fanaticism, dedicated parents, elitism, entitlement, choice, equity and civil rights: how and why does Montessori education elicit such different meanings, particularly in communities of color? Diverse Parents, Desirable Schools examines these and other cases as the first book-length study of the public Montessori movement.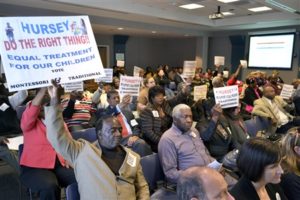 More broadly, Diverse Parents examines how parents interact with each other in racially desegregated schools. I chose public Montessori schools as particularly egalitarian spaces focused on respect for children, individualized learning and parents who might have more in common by deliberately choosing the Montessori pedagogy. Even in this environment, I observed that institutional barriers made it hard for the poorest families to enroll in the schools, and parents of color were more likely to experience their choice as what I term a conflicted fit, where they felt both aligned and alienated by school practices. Up to now, scholars focusing on school choice give little consideration to the substance of the choice, yet school themes like Montessori are an increasingly popular public school option in districts around the country. I ask two main questions: First, how do parents negotiate a fit during the school choice process and after enrollment, and what impact does this have on their engagement with the school and the broader parent community? Second, why do public Montessori schools spark distinct cultural conflicts, both past and present?
Though parents negotiate a fit at all types of schools, the process is particularly salient in Montessori schools because the distinctive pedagogy can elicit strong reactions from parents. My research includes two years of participant observation at two school sites and at school choice events around Hartford, 78 interviews with parents, school administrators and policy makers. To broaden my findings, I compared my two school sites with a unique data set of the 703 public Montessori schools that have opened (and in some cases closed) in the US since 1912.
I use these data to examine how parents negotiate fit in two contexts. In the first part of the book, I examine the history of public Montessori schools over the last 50 years, a history that has never been told before, to examine how a diverse group of parents and educators have claimed Montessori to solve their own social problems, but these initiatives have frequently been diverted in reaction to demand from middle class white parents. I analyze student demographic data from a unique dataset of public Montessori programs from 1987 (the earliest date of National Center for Educational Statistics data on school demographics) to today in order to discuss racial and economic diversity over time and the particular diversity limitations of Montessori charter schools today.
In the final section, I examine how parents' reaction to Montessori at the two Hartford Montessori magnet schools places them into three groups, and how their sense of fit impacts their interactions with school staff and their feeling of belonging among the parent community. I examine how and why parents self-segregate into these groups: those who are self-proclaimed "True believers," those who are satisfied with the school, those who are conflicted about the school. Although at an individual level, it isn't always predictable who will fall into which camp, broader patterns emerge which called into question previous research suggesting that parental school preferences split along class lines. I examine and explain why most believers are white parents who have enrolled their child in the school for the Montessori curriculum, while working class black and Latino parents form the core of the satisfied group, and the most conflicted are the middle class black and Latino parents.
In order to better understand the conflicted parents, I use participant observation and interview data to analyze a series of conflicts centered on my two research sites. These conflicts occurred both in interactions with the staff about the curriculum and home school interactions and among the parent community through the priorities of the PTO. First, these parents disagreed over academic approaches, wanting the school to focus more on outcomes while school staff stressed the value of education as an abstract benefit. Second, both parent communities came to be dominated by the true believers who prioritized student enrichment over parents who had concerns around academics and transportation.
The project concludes with recommendations for supporting parents of racially and socioeconomically diverse backgrounds in theme-based choice schools like Montessori.